Technology
How is collaboration between humans and technology changing in the digitalised world of work?
Technology design is an outcome of different interests, power relations and values. Empirical evidence shows path dependencies in the planning and implementation of technical systems.
Different digitalisation development scenarios can be identified, which offer perspectives for the design of attractive, human-centred forms of work.
Our research deals with development scenarios and design perspectives of work in the course of digitalisation.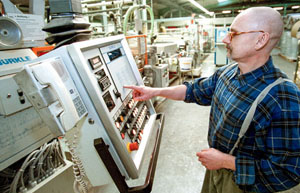 The aim of the VISITS research project is to reanalyze interface management for good interaction work in smart technical services within and between companies, to identify current mechanisms of action, and to develop design options for improvement. On the basis of three operational application scenarios, two overarching questions will be addressed: How can technical aids support interaction work in technical services and what design rules are necessary for good interaction work?
Innovationslabor: Hybride Dienstleistungen in der Logistik, Förderung: BMBF
Wandel von Produktionsarbeit – Industrie 4.0, Förderung: DFG
Hirsch-Kreinsen, Hartmut/Ittermann, Peter/Niehaus, Jonathan (2018): Digitalisierung industrieller Arbeit. Die Vision Industrie 4.0 und ihre sozialen Herausforderungen. 2. Aktualisierte und erweiterte Auflage. Nomos, Baden-Baden.
Kopp, Ralf/Ittermann, Peter (2018): Konzeptionelle Perspektiven von Arbeit in der digitalisierten Logistik. Soziologisches Arbeitspapier, Nr. 55, Dortmund.
Abel, Jörg/Hirsch-Kreinsen, Hartmut/Steglich, Steffen/Wienzek, Tobias (2019): Akzeptanz von Industrie 4.0. Berlin: acatech.
Falkenberg, Jonathan (2018): Mobile Kontrolleure. Eine arbeitssoziologische Analyse digitaler Assistenzsysteme in der Logistik 4.0. In: Hirsch-Kreinsen, H., Anemari K. (Hg.): Logistikarbeit in der digitalen Wertschöpfung. Perspektiven und Herausforderungen für Arbeit durch technologische Entwicklungen. FGW. Düsseldorf, S. 37-56.
Location & approach
A2:
Exit 13 (Kreuz Dortmund Nord-Ost), direction Derne/Schwerte (B236), 1st exit direction Dortmund-Eving, next traffic lights turn right (Kemminghauser Str.), after 2.7km turn left (Evinger Str./B 54), after 1.1km traffic lights turn left (Deutsche Straße), after 500m on the left is the Evinger Platz.
A40/B1/A44:
From the Bundesstraße 1 (extension A40 or A44) to the intersection B1/B236 direction Lünen, 3rd exit direction Dortmund-Eving.
A45:
Exit Dortmund Hafen, turn left until the intersection Münsterstraße (B54), direction Eving, after about three kilometers turn into Deutsche Straße.
You can download an enlarged general map here
From Dortmund Airport, it takes just about 20 minutes to get to Dortmund Central Station by AirportExpress and from there to the university by subway (U-Bahn) 41. The stop is "Zeche Minister Stein". A wider range of international flight connections is offered by Düsseldorf Airport, about 60 kilometers away, which can be reached directly by S-Bahn from the university station. From there, you can get directly to Dortmund Central Station.
From Dortmund Central Station, take the U 41 light rail (direction Brambauer / Brechten). The stop is "Zeche Minister Stein". The Minister Stein Center is located on the right in the direction of travel of the streetcar.
You can find an overview map here.