Low-skilled work
Will there still be low-skilled work in the future, and how will it change?
The term "low-skilled work" is used primarily to describe activities of low complexity that require only short, job-related training processes and provide employees with minimal autonomy.
Our research is concerned with low-skilled work scenarios in the context of digitalisation processes.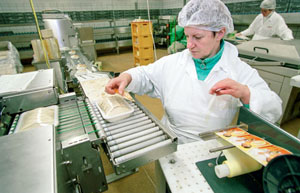 It is often expected that low-skilled work is particularly affected by substitution trends and will be displaced (e.g. in the debate about Industry 4.0). However, empirical evidence for this has not yet been found. Rather, work in general will change as a result of increasing digitalisation, and low-skilled work will not be unaffected.
Hirsch-Kreinsen, H./Ittermann,P./Falkenberg, J. (Hg): Szenarien digitalisierter Einfach&shyarbeit. Konzeptionelle Überlegungen und empirische Befunde aus Produktion und Logistik, Baden-Baden 2019
Abel, J., Hirsch-Kreinsen, H.; Ittermann, P. (2014): Einfach&shyarbeit in der Industrie. Strukturen, Verbreitung und Perspektiven. Berlin
Hirsch-Kreinsen, H. (2017): Digitalisierung industrieller Einfach&shyarbeit. In: Arbeit 26(1), S. 7-32
Ittermann, P.; Niehaus, J. (2017): Industrie 4.0 und der Wandel von Industriearbeit- revisited. In: Hirsch-Kreinsen, H.; Ittermann, P.; Niehaus, J. (Hrsg.) (2017): Digitalisierung industrieller Arbeit. Baden-Baden, S. 33-60
Wienzek, T.; Virgillito, A. (2018): Leise Innovation, nicht radikaler Umbruch. Die Einführung einer Industrie-4.0-Lösung bei einem Möbelhersteller – ein Fallbeispiel, in: WSI-Mitteilungen 71 (3), S. 204-210
Location & approach
A2:
Exit 13 (Kreuz Dortmund Nord-Ost), direction Derne/Schwerte (B236), 1st exit direction Dortmund-Eving, next traffic lights turn right (Kemminghauser Str.), after 2.7km turn left (Evinger Str./B 54), after 1.1km traffic lights turn left (Deutsche Straße), after 500m on the left is the Evinger Platz.
A40/B1/A44:
From the Bundesstraße 1 (extension A40 or A44) to the intersection B1/B236 direction Lünen, 3rd exit direction Dortmund-Eving.
A45:
Exit Dortmund Hafen, turn left until the intersection Münsterstraße (B54), direction Eving, after about three kilometers turn into Deutsche Straße.
You can download an enlarged general map here
From Dortmund Airport, it takes just about 20 minutes to get to Dortmund Central Station by AirportExpress and from there to the university by subway (U-Bahn) 41. The stop is "Zeche Minister Stein". A wider range of international flight connections is offered by Düsseldorf Airport, about 60 kilometers away, which can be reached directly by S-Bahn from the university station. From there, you can get directly to Dortmund Central Station.
From Dortmund Central Station, take the U 41 light rail (direction Brambauer / Brechten). The stop is "Zeche Minister Stein". The Minister Stein Center is located on the right in the direction of travel of the streetcar.
You can find an overview map here.