Low-skilled work
Will there still be low-skilled work in the future, and how will it change?
The term "low-skilled work" is used primarily to describe activities of low complexity that require only short, job-related training processes and provide employees with minimal autonomy.
Our research is concerned with low-skilled work scenarios in the context of digitalisation processes.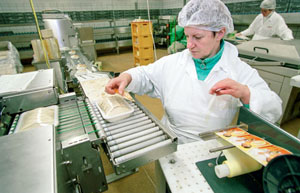 It is often expected that low-skilled work is particularly affected by substitution trends and will be displaced (e.g. in the debate about Industry 4.0). However, empirical evidence for this has not yet been found. Rather, work in general will change as a result of increasing digitalisation, and low-skilled work will not be unaffected.
Hirsch-Kreinsen, H./Ittermann,P./Falkenberg, J. (Hg): Szenarien digitalisierter Einfacharbeit. Konzeptionelle Überlegungen und empirische Befunde aus Produktion und Logistik, Baden-Baden 2019
Abel, J., Hirsch-Kreinsen, H.; Ittermann, P. (2014): Einfacharbeit in der Industrie. Strukturen, Verbreitung und Perspektiven. Berlin
Hirsch-Kreinsen, H. (2017): Digitalisierung industrieller Einfacharbeit. In: Arbeit 26(1), S. 7-32
Ittermann, P.; Niehaus, J. (2017): Industrie 4.0 und der Wandel von Industriearbeit- revisited. In: Hirsch-Kreinsen, H.; Ittermann, P.; Niehaus, J. (Hrsg.) (2017): Digitalisierung industrieller Arbeit. Baden-Baden, S. 33-60
Wienzek, T.; Virgillito, A. (2018): Leise Innovation, nicht radikaler Umbruch. Die Einführung einer Industrie-4.0-Lösung bei einem Möbelhersteller – ein Fallbeispiel, in: WSI-Mitteilungen 71 (3), S. 204-210