Employment conditions
Is the normal employment relationship now the exception?
The development of employment conditions is characterised by an increase in atypical forms of employment (temporary employment, mini jobs, part-time and temporary work, solo self-employment) with mostly poor pay.
Our research asks whether this development is experienced as precarisation and what steps are taken to counteract it.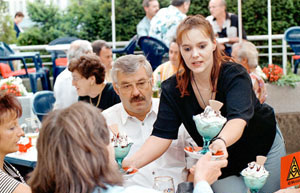 Studies "fair instead of precarious"
In the publication "fair statt prekär" (fair instead of precarious), various empirical studies are published in loose sequence, in which the effects of precarisation on working conditions and living situations in the region are elaborated and illustrated in detail. The studies analyse processes of precarisation and highlight starting points for interventions to foster fair employment.
The publications from the series are available as PDF downloads (in german). Individual copies can also be ordered from us as printed brochures. Please send your order by e-mail to: iris.kastel-drillertu-dortmundde.
Cities and districts in the Dortmund-Hellweg region and North Rhine-Westphalia - brief reports (PDF download in german) and graphics (JPG)
Location & approach
A2:
Exit 13 (Kreuz Dortmund Nord-Ost), direction Derne/Schwerte (B236), 1st exit direction Dortmund-Eving, next traffic lights turn right (Kemminghauser Str.), after 2.7km turn left (Evinger Str./B 54), after 1.1km traffic lights turn left (Deutsche Straße), after 500m on the left is the Evinger Platz.
A40/B1/A44:
From the Bundesstraße 1 (extension A40 or A44) to the intersection B1/B236 direction Lünen, 3rd exit direction Dortmund-Eving.
A45:
Exit Dortmund Hafen, turn left until the intersection Münsterstraße (B54), direction Eving, after about three kilometers turn into Deutsche Straße.
You can download an enlarged general map here
From Dortmund Airport, it takes just about 20 minutes to get to Dortmund Central Station by AirportExpress and from there to the university by subway (U-Bahn) 41. The stop is "Zeche Minister Stein". A wider range of international flight connections is offered by Düsseldorf Airport, about 60 kilometers away, which can be reached directly by S-Bahn from the university station. From there, you can get directly to Dortmund Central Station.
From Dortmund Central Station, take the U 41 light rail (direction Brambauer / Brechten). The stop is "Zeche Minister Stein". The Minister Stein Center is located on the right in the direction of travel of the streetcar.
You can find an overview map here.