Ch@nge Ruhr
"Workspace Beratung" des Projekts Ch@nge Ruhr: Neue Plattform für arbeitsorientierte Berater*innen
-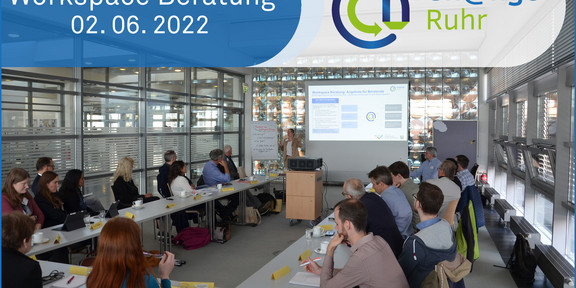 Am 2. Juni 2022 veranstaltete das Projekt Ch@nge Ruhr den ersten Austausch im "Workspace Beratung" zwischen Berater*innen im Ruhrgebiet. Als Auftakt zielte der Workspace darauf, die Arbeitsorientierung in der Beratungspraxis für und mit KMU in Digitalisierungsprozessen zu eruieren und einen Austausch zu arbeitsorientierten Beratungsansätzen zu initiieren.
Ch@nge Ruhr richtet sich mit dem Angebot an Berater*innen, sich durch den Workspace mit dem Projekt zu vernetzen und arbeitsorientierte Beratungsprofile sowie Beispiele guter Beratungspraxis über den im Projekt entstehenden Zukunfts-Hub sichtbar zu machen. "Wir möchten dadurch die Möglichkeit eröffnen, arbeitsorientierte Beratungsangebote zu präsentieren und damit die Transparenz in der Beratungslandschaft für ratsuchende KMU zu erhöhen.", so Peter Ittermann von der Sozialforschungsstelle der TU Dortmund.
In der Diskussion wurde zum einen betont, dass die Vernetzung und Kooperation von Seiten der Beraterinnen und Beratern als wichtig empfunden werden. Zum anderen wurde deutlich, dass Arbeitsorientierung einen zentralen Baustein in der Beratungspraxis darstellt, ohne andere Perspektiven zu vernachlässigen: "Arbeitsorientierte Beratung ist kein Gegensatz zu betriebswirtschaftlicher, organisatorischer oder juristischer Beratung – man braucht immer alle Perspektiven zusammen!", so Rolf Plake, Berater der Wert.Arbeit GmbH.
Der Workspace Beratung wird im Projektverlauf in weiteren gemeinsamen Veranstaltungsformaten mit Beraterinnen und Beratern fortgeführt, um thematische Orientierungen für KMU zu arbeitsorientierten Beratungsansätzen herauszuarbeiten und zu stärken.
Ch@nge Ruhr wird als Projekt der Ruhrkonferenz vom Ministerium für Arbeit, Gesundheit und Soziales des Landes NRW gefördert. In Ch@nge Ruhr wird ein digitaler Zukunfts-Hub entwickelt, der gute Beispiele, Tools und Austauschformate für KMU bündelt, um digitalen Wandel zu begleiten und die Transformations- und Gestaltungskompetenz für digitalen Wandel in KMU nachhaltig zu stärken. Durchgeführt wird das Projekt vom Institut Arbeit und Technik (IAT) der Westfälischen Hochschule (koordinierender Partner), dem Institut Arbeit und Qualifikation (IAQ) der Universität Duisburg-Essen, der Sozialforschungsstelle Dortmund (sfs) der TU Dortmund sowie der Gemeinsamen Arbeitsstelle Ruhr-Universität Bochum / IG Metall.
Links:
Location & approach
A2:
Exit 13 (Kreuz Dortmund Nord-Ost), direction Derne/Schwerte (B236), 1st exit direction Dortmund-Eving, next traffic lights turn right (Kemminghauser Str.), after 2.7km turn left (Evinger Str./B 54), after 1.1km traffic lights turn left (Deutsche Straße), after 500m on the left is the Evinger Platz.
A40/B1/A44:
From the Bundesstraße 1 (extension A40 or A44) to the intersection B1/B236 direction Lünen, 3rd exit direction Dortmund-Eving.
A45:
Exit Dortmund Hafen, turn left until the intersection Münsterstraße (B54), direction Eving, after about three kilometers turn into Deutsche Straße.
You can download an enlarged general map here
From Dortmund Airport, it takes just about 20 minutes to get to Dortmund Central Station by AirportExpress and from there to the university by subway (U-Bahn) 41. The stop is "Zeche Minister Stein". A wider range of international flight connections is offered by Düsseldorf Airport, about 60 kilometers away, which can be reached directly by S-Bahn from the university station. From there, you can get directly to Dortmund Central Station.
From Dortmund Central Station, take the U 41 light rail (direction Brambauer / Brechten). The stop is "Zeche Minister Stein". The Minister Stein Center is located on the right in the direction of travel of the streetcar.
You can find an overview map here.