"Zukunft gestalten mit Sozialen Innovationen" – neue Buchpublikation im Campus Verlag erschienen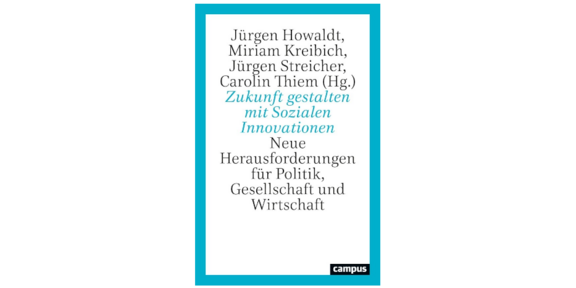 Sozialen Innovationen wird heute – noch verstärkt durch die Corona-Pandemie – immer mehr Aufmerksamkeit zuteil. In Deutschland hat es einige Zeit gedauert, bis das Konzept und seine Bedeutung ins politische Bewusstsein gerückt sind. Nun ist unter Beteiligung von Jürgen Howaldt der neue interdisziplinäre Sammelband "Zukunft gestalten mit Sozialen Innovationen" erschienen.
Der im Campus Verlag erschienene Band versammelt die führenden Expert*innen in der deutschsprachigen Sozialen Innovationsforschung. Er spiegelt die interdisziplinären Perspektiven auf Soziale Innovationen wider und fragt nach deren Potenzial, die großen gesellschaftlichen Herausforderungen – etwa soziale Ungleichheit oder Klimawandel – zu bewältigen. Dabei nehmen die Beiträge auch förderpolitische Ansätze auf nationaler und internationaler Ebene sowie Kriterien zur Bewertung und Wirkung von Sozialen Innovationen in den Blick. Herausgegeben wurde der Band von Jürgen Howaldt (TU Dortmund), Miriam Kreibich (VDI/VDE-IT), Jürgen Streicher (Joanneum Research) und Carolin Thiem (VDI/VDE-IT).
Über diesen Link ist das Buch nun frei (Open Access) für alle verfügbar.
Links
Location & approach
A2:
Exit 13 (Kreuz Dortmund Nord-Ost), direction Derne/Schwerte (B236), 1st exit direction Dortmund-Eving, next traffic lights turn right (Kemminghauser Str.), after 2.7km turn left (Evinger Str./B 54), after 1.1km traffic lights turn left (Deutsche Straße), after 500m on the left is the Evinger Platz.
A40/B1/A44:
From the Bundesstraße 1 (extension A40 or A44) to the intersection B1/B236 direction Lünen, 3rd exit direction Dortmund-Eving.
A45:
Exit Dortmund Hafen, turn left until the intersection Münsterstraße (B54), direction Eving, after about three kilometers turn into Deutsche Straße.
You can download an enlarged general map here
From Dortmund Airport, it takes just about 20 minutes to get to Dortmund Central Station by AirportExpress and from there to the university by subway (U-Bahn) 41. The stop is "Zeche Minister Stein". A wider range of international flight connections is offered by Düsseldorf Airport, about 60 kilometers away, which can be reached directly by S-Bahn from the university station. From there, you can get directly to Dortmund Central Station.
From Dortmund Central Station, take the U 41 light rail (direction Brambauer / Brechten). The stop is "Zeche Minister Stein". The Minister Stein Center is located on the right in the direction of travel of the streetcar.
You can find an overview map here.