81. Dortmunder Dialog: Prof. Dr. Jürgen Howaldt nahm vor mehr als 100 Gästen, darunter Dortmunder OB und Rektor der TU DO, Preis entgegen
Dortmunder Dialog Preis an Sozialforschungsstelle verliehen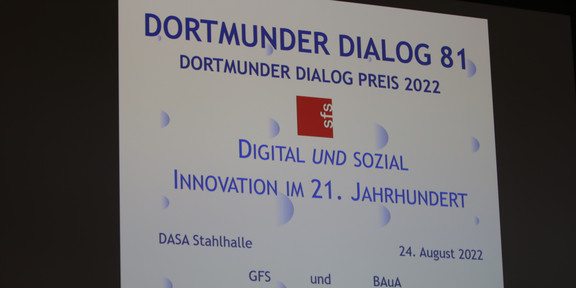 Im Rahmen des 81. Dortmunder Dialogs am 24. August 2022, der unter dem Motto "Digital und sozial – Innovation im 21. Jahrhundert" stattfand, wurde die Sozialforschungsstelle mit dem Dortmunder Dialog Preis 2022 geehrt. Rund 100 Gäste wohnten der Veranstaltung bei. Die Veranstaltung, die von der GFS (Gesellschaft zur Förderung des Strukturwandels in der Arbeitsgesellschaft e.V.) ausgerichtet wurde, fand in der Stahlhalle der DASA – Arbeitsweltausstellung statt.
Location & approach
A2:
Exit 13 (Kreuz Dortmund Nord-Ost), direction Derne/Schwerte (B236), 1st exit direction Dortmund-Eving, next traffic lights turn right (Kemminghauser Str.), after 2.7km turn left (Evinger Str./B 54), after 1.1km traffic lights turn left (Deutsche Straße), after 500m on the left is the Evinger Platz.
A40/B1/A44:
From the Bundesstraße 1 (extension A40 or A44) to the intersection B1/B236 direction Lünen, 3rd exit direction Dortmund-Eving.
A45:
Exit Dortmund Hafen, turn left until the intersection Münsterstraße (B54), direction Eving, after about three kilometers turn into Deutsche Straße.
You can download an enlarged general map here
From Dortmund Airport, it takes just about 20 minutes to get to Dortmund Central Station by AirportExpress and from there to the university by subway (U-Bahn) 41. The stop is "Zeche Minister Stein". A wider range of international flight connections is offered by Düsseldorf Airport, about 60 kilometers away, which can be reached directly by S-Bahn from the university station. From there, you can get directly to Dortmund Central Station.
From Dortmund Central Station, take the U 41 light rail (direction Brambauer / Brechten). The stop is "Zeche Minister Stein". The Minister Stein Center is located on the right in the direction of travel of the streetcar.
You can find an overview map here.